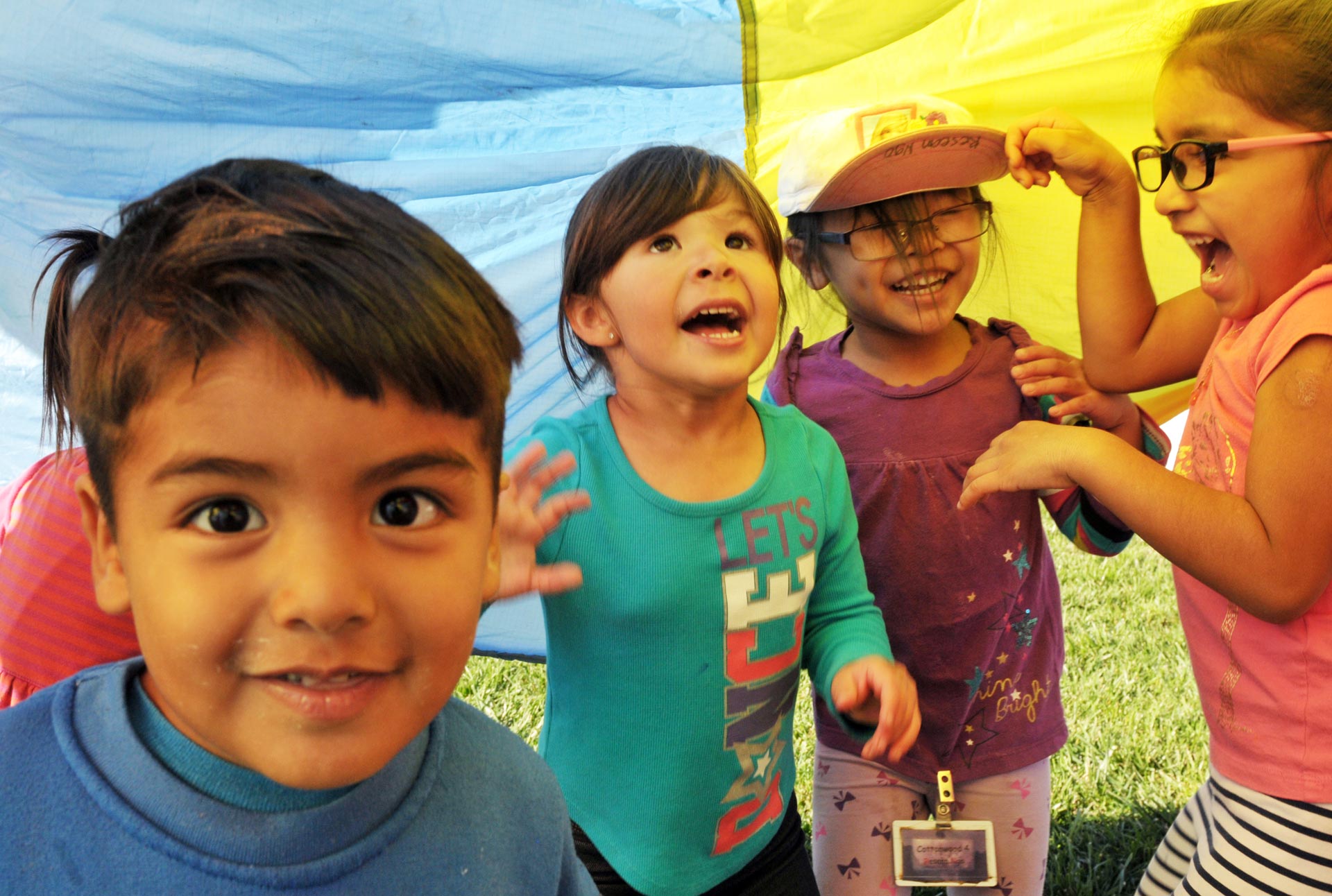 The Santee Community
Educare California at Silicon Valley serves the Santee community in East San Jose, and welcomes families from the larger Bay Area. Santee is one of the lowest-income, highest need areas in Silicon Valley. It has a history of gang violence and has a court injunction for gang-related activity.
Our families face complex cultural, linguistic, financial and affordable housing barriers. These stressors and lack of access to early learning supports can result in young children starting kindergarten behind and staying behind. Educare serves as a beacon of learning and hope to these low-income, at-risk young children and their families by ensuring they have the skills and experiences that scaffold the best start to life.
Many of Santee's residents are immigrants, and there is a large population of children who are dual language learners. Our diverse families include: 76.3% Hispanic/White, 22.5% Asian, and 1.3% biracial/multi-racial. 81.3% of mothers are foreign born. Over 60% of the young children we serve learned Spanish as their first language, and parents report that 43% of these young children are currently stronger in Spanish than in English.
A Closer Look
Your zip code shouldn't determine the quality of education you receive. At Educare, we believe everyone deserves a fair chance to achieve their dreams, and it starts by leveling the playing field from the day a child is born. As one of the nation's most effective early childhood schools, we give children the best chance for success in life. Our approach extends beyond the classroom to help children, families and communities thrive. Each year, we serve over 700 infants, toddlers, preschoolers, and their parents and caregivers. Our classrooms are divided into Infants & Toddlers and Preschoolers, where each practices age-appropriate activities that build on children's strengths.
Infants & Toddlers (Ages 0-3)
During the first few years of a child's life, one million neural connections are formed in the brain every second. Babies' brains are wired to learn as much as they possibly can, and are shaped by inputs from their environment.
Research has demonstrated that children who enter Educare at younger ages have higher levels of receptive vocabulary skills at kindergarten entry than children who start Educare later. Dual language learners benefit even more from earlier entry and longer involvement in Educare, demonstrating stronger gains in English language ability.
Educare's intentional focus on building children's social-emotional skills before age 3 and continuing through age 5 works. More time in Educare is associated with higher ratings of social-emotional skills, including teacher-rated self-control and initiative, among most children.
Preschoolers (Ages 4-5)
Children's brains are almost 90% developed by the time they reach age 5. Children who grow up in poverty face disadvantages that hamper healthy development. A gap in early vocabulary development between children in poverty and their higher-income peers is evident as early as 18 months of age. Research shows that these differences have lasting effects on a child's academic success later in life.
A wide body of research that demonstrates that early childhood interventions, particularly in the first years of life, do work. With high quality early childhood experiences, people are more likely to have a higher income as adults, more likely to own a home, more likely to graduate from high school (on time)—and less likely to need special education or public aid.
Family Engagement
Educare focuses on strong family engagement because we believe parents are children's first and primary teachers. This work is grounded in the practice that addresses each child's needs within the context of their whole family, since parents and caregivers play a critical role in extending learning at home to help their child achieve healthy social, emotional, and cognitive development.
Our dedicated Family Engagement Specialists and staff partner with parents to support their children's learning and development. Family Engagement Specialists conduct an assessment to determine each child and family's needs and connect them with appropriate support services and community resources. Our Family Engagement Specialists are each bilingual in English and another language, including Spanish and Vietnamese, in order to better communicate with parents. Through monthly meetings and one-on-one discussions, our specialists help families to build and support strong, respectful parent-child relationships, whole family well-being, and ongoing learning for the child and the family.
Educare also strengthens parents' abilities to serve as champions for their children through trainings and classes. We also give them a voice in the programs and services we provide to ensure it meets their unique needs. We hold monthly meetings at Educare where all parents are invited to learn more about and provide input on our programs and services and child engagement strategies.