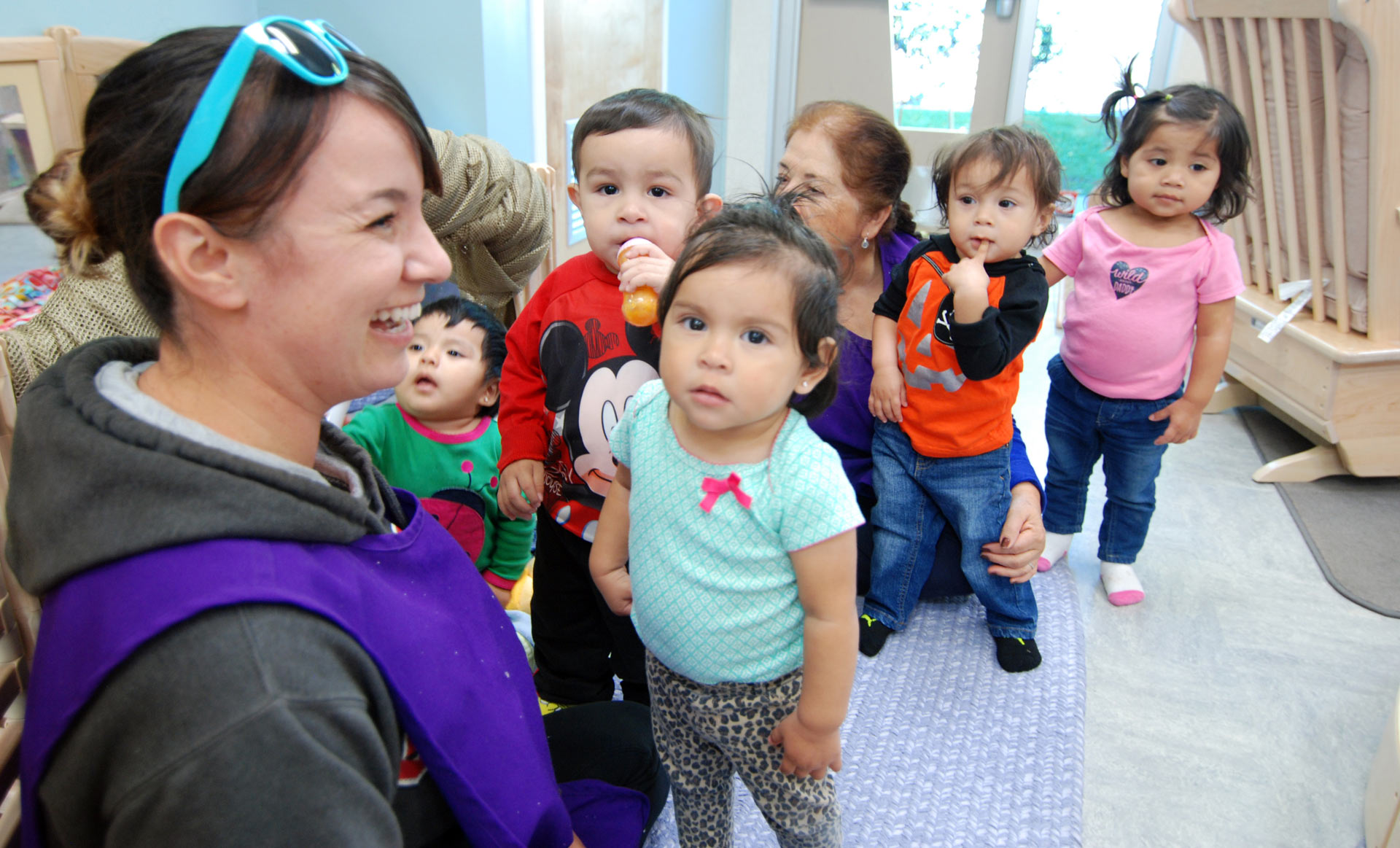 Educare Model
The zip code you're born in shouldn't determine your educational and life outcomes, but unfortunately, it often does. Children who grow up in low-income areas often face disadvantages that hamper healthy development. The achievement gap starts early, and it can compound as a child moves through school —unless we provide proven, intensive interventions and increase family engagement early on.
Educare seeks to prevent the achievement gap from taking root in the early years of a child's life. We know what works to close the achievement gap: high quality, intensive education interventions in early childhood delivered by skilled, trained teachers.
The Educare model is based on research from early childhood development, education, social work and other allied fields, and has been rigorously evaluated to show that our model works. Four core features compose the Educare model: data utilization, embedded professional development, high-quality teaching practices and intensive family engagement.
Learn more about how our four core features work together in a comprehensive and intentional way to achieve a high-quality early childhood program that helps children from birth to age 5 become academically, socially and emotionally prepared for kindergarten.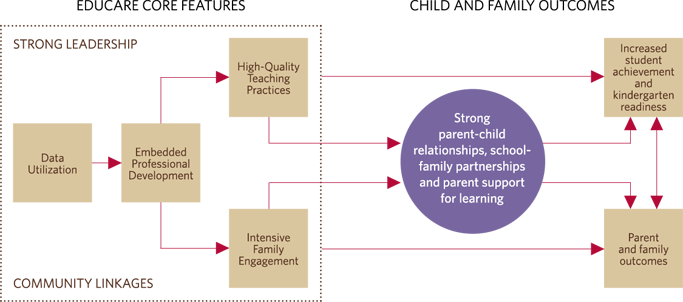 Mission
As a beacon of early learning, our mission is to close the achievement gap and create life-changing opportunities for low-income, at-risk youth in Silicon Valley and beyond by providing high-quality early childhood education and family support services.
Vision
All children ages 0-5 and their families and caregivers have access to high quality early education, resources, and support services to ensure every child has the best start to life.
We envision the Educare center to be a world-class, state-of-the-art early learning school embedded in the community and dedicated to the well-being of children and families, which will be celebrated by:
Achievement: Young children receive high-quality early learning services to scaffold their development and help them reach their fullest potential and development.
Engagement: Families engage in activities through the classrooms and family resource center to optimize their role as their child's first teacher and advocate.
Safety: A neighborhood that is safe and scaffolds the economic self-sufficiency of its residents.
Model Learning: Early childhood education providers visit Educare to see what best practices look like and receive professional development to learn how they can enhance quality in their local communities.
Partnerships: Numerous and diverse partnerships—public and private funders, school districts and county offices of education, community-based organizations and the Educare Learning Network—support the ongoing sustainability and continuous improvement and innovation to ensure Educare can impact thousands of children and adults in the local community, region and beyond.
Outcomes: Research and evaluation efforts showcase Educare's quality, the impact it has on young children's development, and informs larger system and policy decisions across the region and state.
Guiding Principles
Place Educare California at Silicon Valley is a laboratory for high-quality early learning for at-risk children and for teacher training. We work to continuously improve the quality of care and instruction in sites beyond the walls of the center, including K-12 schools.
Program Educare California at Silicon Valley adheres to the Educare Learning Network's 13 Program Core Features, which reflect the best-available, evidence-based strategies for effectively preparing at-risk young children and their families for success in school. Our programs serve children, families, the broader community and the region through wrap-around family support services and parent training.
Partnerships Educare California at Silicon Valley's model is built on unique public-private partnerships that enhance our programming.
Policy Educare California at Silicon Valley informs and advocates for local, state and national policy that improves the early education system.
History and the Early Learning Network
Educare California at Silicon Valley opened in September 2015 as part of the Early Learning Network, a national network of 25 Educare Schools (and the first in the state of California). Together, the network of schools serve as a beacon for high-quality early learning in practice that can inform and inspire broader policy and systems change for young children and families at the local, state and national levels.
Educare schools makes certain that financially disadvantaged young children have the best start to life. Educare's comprehensive program incorporates what science says young children need to flourish. Our rigorous research shows that Educare works: the majority of our students enter kindergarten with the school readiness skills they need to succeed.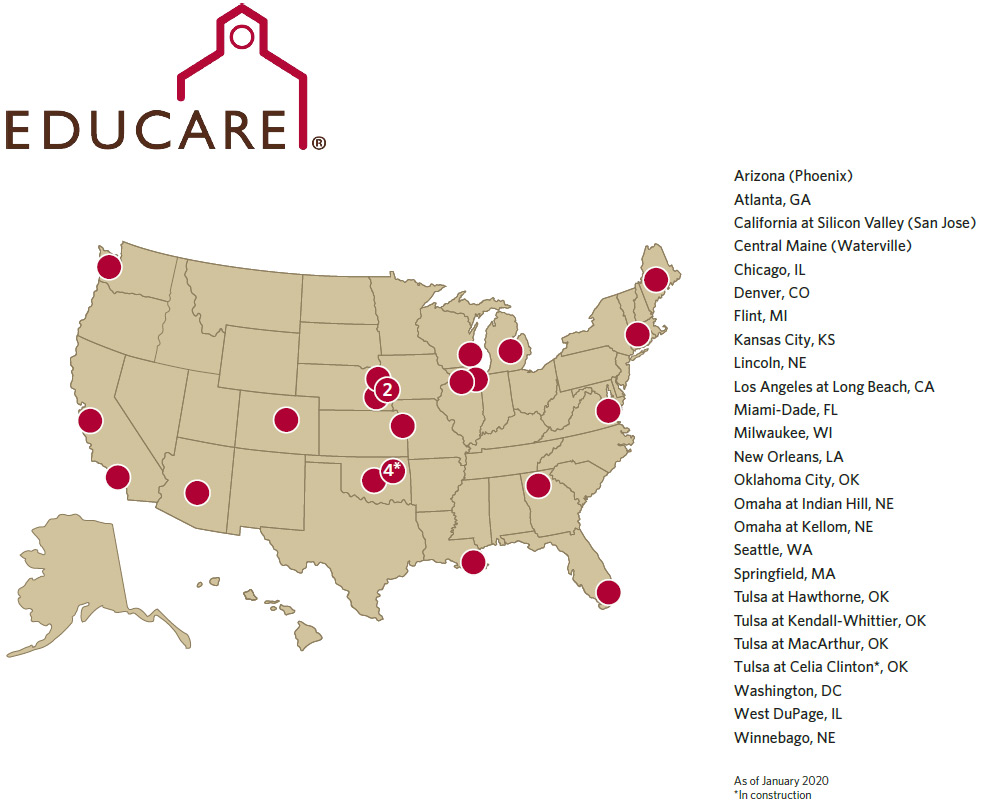 Our Team
Educare proudly collaborates with many public and private partners to operate our innovative early learning center. Our success is made possible through the tireless work of our incredible staff, teachers, administrators and consultants who ensure children in the area receive the best support for early childhood education. The team at Educare California at Silicon Valley includes interim Executive Director Joe Herrity, Director of Educare Programs Drew Giles, as well as teachers, assistant teachers, teacher assistants, classroom supervisors, site supervisors, family engagement specialists, coaches, and evaluation experts.
Our Board
The FY18-19 governance board for Educare California at Silicon Valley includes:
Shannon Hunt-Scott (Chair) – The Scott Foundation
Mary Ann Dewan (Vice Chair) – Santa Clara County Office of Education
Meera Mani (Secretary) – The David and Lucile Packard Foundation
Juan Cruz (Treasurer) – Franklin McKinley School District
Chris Funk – East Side Union High School District
Greg Kepferle – Catholic Charities of Santa Clara County
Eva Roberts – The Buffett Early Childhood Fund
Camille Maben – First 5 California
Scott Moore – Kidango
Jolene Smith – FIRST 5 Santa Clara County
Careers
The expertise, dedication and passion of our team members drive the individual care and high impact of our educational and programmatic services. Our schools leverage the diverse experience of our directors, teachers, family engagement specialists, and administrative staff to ensure that children, families, and communities thrive.
We pride ourselves on our commitment to continuous program improvement through professional development opportunities for staff, from coaching and training to networking with peers. We support our team members so they in turn can provide our children and families with the best start to life.
Check back often to learn more about career opportunities available at Educare California at Silicon Valley.
Contact Us
Family Resource Center:
Deyanira Hurtado
, Program Manager
Phone: (408) 573-4805 / Email:
dhurtado@catholiccharitiesscc.org
---
Classroom Enrollment, Program Operations, and Site Visits
Drew Giles,
Director of Educare Programs
Phone: (408) 573-4801 / Email:
drew.giles@fmsd.org
---
Strategic Partnerships, Professional Development Institute, and Policy
Joe Herrity,
Interim Executive Director
Phone: (408) 573-4802 / Email:
joe.herrity@educaresv.org