Research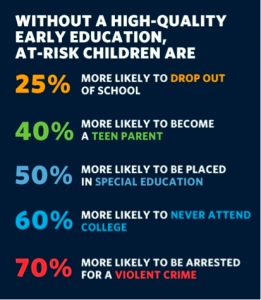 Research has demonstrated that without high quality early education, youth are more likely to drop out of school, become a teen parent, never attend college and commit a violent crime. Closing the nation's achievement gap would increase the U.S. GDP by between $710 billion and $1.2 trillion.
Based on these realities, the Educare Network created a National Research Agenda for Early Education to share the most pressing early learning priorities and catalyze new research in best practices for early childhood education that will improve the lives of low-income families and their children. Learn more about Educare's national research studies here.
Higher language skills and fewer problems
A new study published in Child Development in 2017 found that the high quality, center-based early childhood education offered at schools in the national Educare network, which includes Educare California at Silicon Valley, has a positive impact on the development of financially disadvantaged infants and toddlers.
The study found that Educare children after one year of enrollment, at approximately age 2, had significantly higher English language skills, fewer parent reports of problem behaviors and more positive parent-child interactions than children who did not attend Educare.
This new study reinforces lessons learned from decades of research — high quality early childhood education benefits young children living in poverty.
Lasting effects of Educare
An ongoing study from the Frank Porter Graham Child Development Institute at the University of North Carolina at Chapel Hill has demonstrated that low-income children (including children with limited proficiency in English) who enroll in Educare as infants or toddlers enter kindergarten with the same skills as their middle-income peers. Children who entered from birth to age two scored near the national averages in measures of school readiness. Early findings indicate the gains Educare children make hold as they move through elementary school.