Data Dashboard Enables Real Time Improvements
As part of our commitment to continuous program improvement, we worked with Oklahoma City Educare's local evaluators to design and customize an online data dashboard platform to make real-time data more accessible to teachers.

The electronic data dashboard allows teachers to enter child assessment data and classroom observation notes on an iPad, which immediately sends data to the national database. This streamlined process saves teachers valuable data-entry time, and provides real-time data on child performance, outcomes, and classroom practices. Teachers can identify trends and fine-tune their classroom practices to maximize child outcomes. We launched the dashboard in 2016, and we're incorporating it into our professional development.
"The data dashboard is the mechanism to help us build upon and improve curriculum and practice," explains Adele Cruz, local evaluation partner. "We're working closely with the teachers and family engagement specialists to ensure the data is exactly what they need. It's important that the teachers have a voice in building the dashboard." 

This is an important step in creating a pipeline of data for each student starting in infancy and continuing throughout their educational career.
Research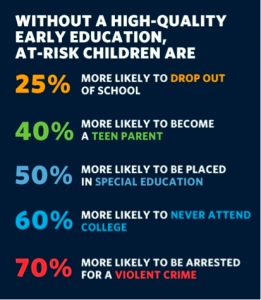 Research has demonstrated that without high quality early education, youth are more likely to drop out of school, become a teen parent, never attend college and commit a violent crime. Closing the nation's achievement gap would increase the U.S. GDP by between $710 billion and $1.2 trillion.
Based on these realities, the Educare Network created a National Research Agenda for Early Education to share the most pressing early learning priorities and catalyze new research in best practices for early childhood education that will improve the lives of low-income families and their children. Learn more about Educare's national research studies here.
Higher language skills and fewer problems
A new study published in Child Development in 2017 found that the high quality, center-based early childhood education offered at schools in the national Educare network, which includes Educare California at Silicon Valley, has a positive impact on the development of financially disadvantaged infants and toddlers.
The study found that Educare children after one year of enrollment, at approximately age 2, had significantly higher English language skills, fewer parent reports of problem behaviors and more positive parent-child interactions than children who did not attend Educare.
This new study reinforces lessons learned from decades of research — high quality early childhood education benefits young children living in poverty.
Lasting effects of Educare
An ongoing study from the Frank Porter Graham Child Development Institute at the University of North Carolina at Chapel Hill has demonstrated that low-income children (including children with limited proficiency in English) who enroll in Educare as infants or toddlers enter kindergarten with the same skills as their middle-income peers. Children who entered from birth to age two scored near the national averages in measures of school readiness. Early findings indicate the gains Educare children make hold as they move through elementary school.
Policy and Presentations
Educare California at Silicon Valley advocates for policies that will improve early childhood education at the local, state, and national levels.
Policy/Advocacy
Led by Early Edge California, Educare and several partners — including FIRST 5 Santa Clara County and First 5 California -- signed on to a letter recommending effective ways to promote early education through state and local implementation and coordination of the federal Every Student Success Act (ESSA).
As a member of the Strong Start Santa Clara County initiative, Educare joined a delegation of 16 Silicon Valley community and education leaders on an Advocacy Day to Sacramento on May 23, 2017 to advocate for early learning education support.
Signed on to a statewide letter with Children Now and other partners urging the California State Board of Education to integrate early learning into California's ESSA (Each Student Succeeds Act) State Plan.
We proudly supported AB60 (Santiago & Gonzalez Fletcher), which passed to allow California to raise the income eligibility limit so more low-income families qualify for subsidized child care! Catch board member Camile Maben, Executive Director of First 5 California, quoted in this piece.
Signed on to a national letter recommending keeping items pertaining to preschool expulsions/suspensions in the National Survey of Children's Health 2017.
Signed on to support the Five Principles to Guide Any Changes to Immigration Law, Policy or Procedure, which provides five recommendations to guide any changes to immigration law or policy that would affect young children.
As a member of the Silicon Valley Children's Advocacy Network (SVCAN) coalition, we signed on to a letter urging the State Senate and Assembly Budget Committees to include several early childhood education investments in the Governor's budget.
Signed on to a letter urging our congressional delegation to protect health care for California's 5.6 million children by extending the Children's Health Insurance Program (CHIP) for at least five years
The Educare network (as a group of 21 sites) signed on to a letter urging Congress to take immediate action to pass the Dream Act of 2017. 
In addition to impacting children and families directly, Educare uses our expertise in early childhood learning to educate others in the education and policy spheres through presentations and tours.
Presentations / Conferences
Executive Director Lisa Kaufman spoke about the 8 Essential Quality Elements of Early Childhood Education at the Improving Quality in California's Early Childhood Education System: New Research and Implications for Policy conference on February 29, 2016. Watch the full video to see all 8 elements here.
In June 2016, Educare was invited to participate in the Ounce of Prevention Fund's 5th Annual Policy Exchange in Chicago. Board member Camille Maben (Executive Director, First 5 California) spoke about training early childhood educators. Our work on the ESSA letter was also recognized at the conference.
Teachers Pedro Sousa and Yesenia Rivas-Bejarano were invited to present at the California Kindergarten Association - 35th Annual PK1 Conference, which took place in January 2017 in Santa Clara and brought together teachers from around the state. Pedro and Yesenia hosted a table during the Art Happy Hour to demonstrate some of the art techniques used with our students to support their cognitive development and creativity.
Head Start Supervisor Laurie Harnden and local evaluation partner Adele Cruz co-facilitated a learning session on how using a digital data dashboard can improve classroom practices and outcomes at the national 2017 Educare Learning Network Meeting in Washington, DC.
Teacher Roopali Born presented Mud Works, a fun learning experience at the Painting the Future event hosted by Pacific Oaks College on September 23, 2017 at the Campbell Community Center. She led participants in a discussion about benefits of International Mud Day and interactive activities including dry mud exploration, mud painting and mud slime.
Reports/Publications
If you would like to invite Educare California at Silicon Valley to present on early learning at a conference or to sign on to an early learning related legislation, contact Interim Executive Director Joe Herrity at
joe.herrity@educaresv.org
/ (408) 573-4802.